An Auckland woman has been left with bald patches and "straw-like" hair after a beauty treatment went horribly wrong.
Kirstine Morris, 32, paid $100 to have her curly hair chemically straightened at the Hair Co salon in West Auckland's LynnMall shopping centre three weeks ago.Her hair was covered with a straightening product mixed with a thickener, before being left under a heat lamp for about 20 minutes.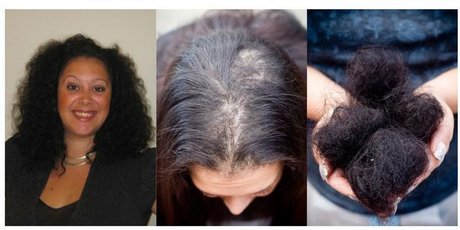 "My head was burning. I've had colours in the past, and you do get sensations. But this was intense," said the mother of three.
"[The hairdresser] said that's okay, it's the chemicals. Then when it was time to take me out of the lamp my head was banging."
Despite the initial pain, Ms Morris was happy with the results until she washed her hair for the first time seven days later, as advised.She said her hair matted "like glue" under the water, and fell out in clumps when she brushed it afterwards.
More has fallen out each day since, and she has collected it in marked bags as evidence. "I've got patches. It's almost like it's gone from the top of my head, in the middle of my forehead, I've got a wide strip going straight down to the nape of my neck."
She has since gone to the Rodney Wayne salon in LynnMall for treatment, and the manager there told her it was the worst damage she had seen."She actually said it made her physically sick ... it's ruined. A lot of my hair is not alive. It's limp, and has no movement now."Hair Co salon director Liz Jungwirth conceded that the chemical straightening treatment had damaged Ms Morris' hair.
"I'm feeling really bad, but it's something that's happened."But she believed accounts of Ms Morris' damaged hair were exaggerated and confrontational.Asked what went wrong, Ms Jungwirth said any number of factors could have contributed to the damage, including stress or medications.
"There's an element in the equation we don't understand. We would have to have the hair tested in a laboratory to find out what it was."Ms Jungwirth said the salon had treated thousands of other women the same way, without any problems.
Ria Bond, the president of the New Zealand Association of Registered Hairdressers, had recently heard of a similar chemical straightening incident at another salon.She said accidents did happen in hairdressing, but there were also varying degrees of professionalism and care within the industry.
Some hairdressers did a hair strand test before using chemicals, but it came down to what instructions were given by manufacturers for products, of which there were "hundreds". But she said the adding of a thickener to a straightening product was "odd". "The only accepted additive would be cornflour ... but if they are providing a straightening service, it does not pay to add anything else to it."
Ms Morris was covered by the Consumer Guarantees Act and was entitled to contact the Department of Labour if her injuries were serious, Ms Bond said.
Ms Morris said the manner in which Hair Co dealt with her initial complaint had forced her to take a hard line.
By: Nicholas Jones nzherald.co.nz.